Health Department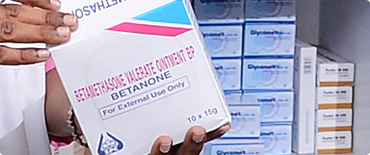 We procure and supply drugs to the Health Ministry and to the private sector market through an open competitive tender procedure.
All expenses incurred in the purchases for the Health Ministry are advanced by the SPC from its own funds and subsequently collected from the Ministry. The SPC receives a service charge of 10% of the cost and freight value of goods for ordering and clearing expenses such as taxes, defense levy, etc. Thus, after deducting clearance charges, stamp fees, etc. SPC retains only about 1% for its services.
General Public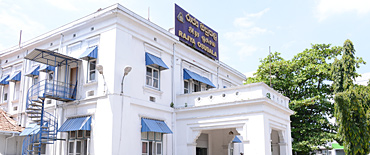 We distribute drugs to the general public through our islandwide network of Rajya Osu Salas, Franchise Osu Salas and distributors.
Our main aim has been to render the best possible service to the public, making the SPC a profit-making and a sustainable government enterprise. We distribute quality assured products at affordable prices. Our qualified and well trained pharmacists and experienced sales staff maintain the highest standards in pharmacy and dispensing practice. For example, Rajya Osu Sala at Colombo 7, operates 24 hours a day and 365 days of the year, without a single complaint regarding dispensing being recorded in the last year (about 275,000 prescriptions were dispensed last year).
We produce "Jeevanee", a life-saver, at our Oral Rehydration Salt Unit. The product is based on a formula approved by the WHO and UNICEF.
Laboratory Facilities
SPC is a service oriented organisation. Supplying high quality drugs is SPC's commitment to the nation. To assure its consumers the best service at all times, the drugs are tested at three stages, as follows: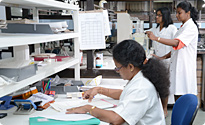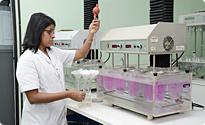 Tender Samples
All tender samples submitted are tested for quality.
Pre-marketing Quality Assurance
All batches of bulk consignments are tested by random sampling before release to the market. Further, manufacturers' analytical certificates for each and every batch are checked at the Technical Department for compliance with BP/USP standards.
Post-marketing Quality Assurance
This is performed by drawing random samples from the stocks already issued to the market.
These activities are facilitated by the recently established Quality Assurance Laboratory at our Head Office. With the highly sophisticated technological equipment SPC assesses the quality of pharmaceuticals. The laboratory is equipped with Fourier Transform Infrared Spectrophotometer (FTIR), High Performance Liquid Chromatography (HPLC), Spectrophotometer and Automatic Potentiometer and a large number of samples can be tested in a short time. Easy-to-use automated systems integrated with sample scheduling tools help to make the laboratory highly productive in the quality assurance of the pharmaceuticals of SPC.

Awareness Programmes
As a service oriented organisation, SPC is dedicated to educate the people on proper and rational use of drugs and preventive health care.
Programmes for General Public
Radio and TV Programmes
"Suwa Piyasa" Radio Programmes through which the general public are given an opportunity to get their health related problems discussed by top specialists in the field, are conducted weekly both in Sinhala and Tamil mediums.
"Suwa Piyasa" TV Programmes are conducted in Sinhala medium, weekly in which major national health problems e.g. Diabetes, High Blood Pressure etc. are discussed.
By these programmes, SPC tries to improve the health awareness of the general public.
Newspaper Articles
Public health and rational use of drugs to get maximum benefits
Facilities available in SPC for general public
Importance of using generic names of pharmaceuticals and their benefits to the people
Leaflets/Brochures/Handbills
These are distributed among general public on special occasions such as exhibitions, seminars, workshops, awareness programmes etc. They provide details of SPC marketing products, their prices, information about Osu Salas and the laboratory services etc.
School Science Day Programmes for Rural Students
Collaborating with SLAAS (Sri Lanka Association for the Advancement of Science) SPC conducts these programmes to enhance the knowledge of school children in rural areas who have limited facilities.
Visual aids, leaflets, lectures and discussions are organised by SPC for these programmes, and SPC sponsors these programmes in five remote areas of the country each year.
For Professionals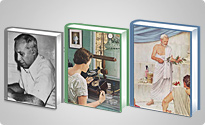 "The Sri Lanka Prescriber" Quarterly Journal
This journal provides information of pharmaceuticals, therapeutics and medicines for professionals and researchers.
Service of SPC Representatives
SPC Representatives appointed by the SPC visit doctors and other health professionals and make them aware about our pharmaceuticals, surgical items, their prices, cost-effectiveness and high quality. This is done islandwide and free samples are also issued.
Sponsorship of clinical meetings of private practitioners, annual sessions of various colleges of consultants and government doctors.